True Life Fund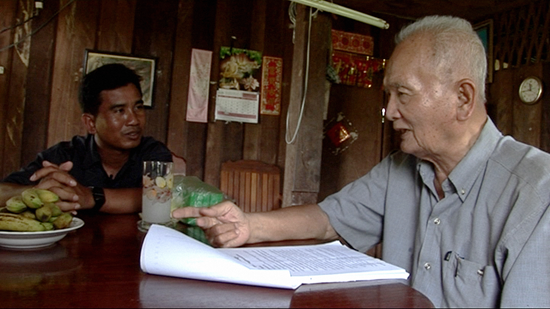 The True Life Fund returns for a fourth year to demonstrate that documentaries create change. To that end, we are proud to announce that the 2010 True Life Fund Film is Enemies of the People, directed by Rob Lemkin and Thet Sambath. The film documents Sambath's efforts to interview former members of the Khmer Rogue who participated in the widespread killing of villagers during the tumultous period in Cambodia following the end of the Vietnam war.

In 2010, the True Life Fund, with the aid of many community partners and festival-goers, will attempt to raise over $10,000 in aid of Thet Sambath's ongoing project in Cambodia. Fundraising will take place before the fest (with events at Hickman and Rock Bridge High Schools and elsewhere), and director Rob Lemkin will be making appearances around town to discuss the film during the festival weekend.

True/False is proud to announce that The Crossing will once again be the sponsor of the True Life Fund in 2010.
History
The True Life Fund was started in 2007 in order to offer tangible and meaningful assistance to the real-life subjects of a new film. The fund is an acknowledgment that documentary filmmakers and festivals thrive because of the stories given to us by people who are often of limited means. While at this point we can't raise money for the subjects of every film, we can spotlight one film each year and raise funds to support and honor those who appear in front of the camera. We do this by actively collaborating with filmmakers, whose intimate knowledge of their "characters" enables us to pinpoint needs and most effectively target our efforts.
In 2007, we worked closely with English director Paul Taylor and producer Teddy Leifer to help buy school supplies for the Children of Agape singing choir of South Africa. More than $8,500 was raised from audience members and from other contributors in our community. In 2008, we partnered with director David Schisgall and GEMS (Girls Educational & Mentoring Service) founder Rachel Lloyd to help provide services to girls recovering from the trauma of sexual exploitation.
T/F audiences and the Columbia community raised more than $9,000 in support of GEMS. In 2009, we collaborated with director Anders Østergaard to send over $9,000 to support the intrepid, underground journalists featured in his film Burma VJ to help purchase cameras and other equipment vital to their efforts to document the ongoing revolution in Burma.
"The True/False 2007 True Life Fund has been instrumental in helping us with our campaign, which generates funds to help provide access to education for orphans and disadvantaged children in South Africa. We have been operating an education program that has been supporting 39 children for over a year. All the money that we raise goes into our education trust fund and from this, each month, we directly pay the school fees for all the children whom live at the Agape orphanage. The money from the True Life Fund went straight into this pot.
"Our program enables the children to attend a much better school and also ensures that they receive a tutor to help provide the encouragement and support that they would normally have received from their parents. A tutor goes to the Agape orphanage for three hours every day and the children's grades have significantly improved since the program began. For many of the children, school was disrupted when their parents became sick and as a result they are in need of catching up. This holistic approach ensures that the children not only receive a full and thorough education, but are also instilled with personal ambition and a hope for the future.
"The True Life Fund raised over $8,000 for our charity and we were incredibly moved by the generosity of the people of Columbia. Not only is True/False a sensational film festival (and probably more fun than any other festival out there) but the True Life Fund demonstrates why it's years ahead of the game. We'd like to thank Paul Sturtz, David Wilson and the whole True/False team for their compassion, creativity and for their friendship towards the children of Agape."
— Teddy Leifer