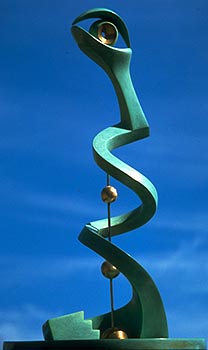 "Visionary", bronze, 16" high


The True Vision Award winner is presented with an original bronze sculpture, created by nationally known Columbia artist Larry Young, and donated by the artist to the festival. For more information about Mr. Young's work, visit his website at http://www.youngsculpture.com or contact him directly:


Larry Young Sculpture
8700 N. Millsite
Columbia, MO 65201
(573) 449-6810
The True Vision Award, our only award, is given annually to a filmmaker (or filmmakers) whose work shows a dedication to the creative advancement of the art of nonfiction filmmaking.
From his first forays into guerrilla journalism with Channel Zero in Canada, through the founding of GNN (the Guerrilla News Network), Stephen Marshall has defined the cutting edge of grassroots media. Working with minimal resources and equipment, his work has forged new ground, mixing investigative reporting with a stylistic palette more aligned with MTV than CNN. Not surprisingly, he has been tapped to direct videos for artists like Eminem, 50 Cent and the Beastie Boys. But in each case, Marshall brings his outspoken political convictions and spot-on aesthetic sensibility to bear on the collaboration. Having finished both his first feature-length documentary (BattleGround: 21 Days on Empire's Edge) and narrative feature (This Revolution) in 2004, Marshall stands poised to bring his message to an even larger group of people. True/False salutes Stephen Marshall and his clarity of focus by awarding him the 2005 True Vision Award.
Award presentation: Sunday, Feb. 27, 5pm, Blue Note (immediately prior to screening of This Revolution)